Oh well, so autumn's on the doorstep. It's a rainy day, I just got my first cup of coffee for today and still gotta leave the house to meet up with clients and run some errands... what a drag!
Things are going pretty well for me lately so there's no use in complaining, I lead a beautiful life even though browsing this journal I've been down quite a long road of ups and downs. Well, things change as much as people do but in the end I'm certain everything's gonna be fine. There's this line in a Take That song which says "Look back but don't stare" which I certainly should get tattoed somewhere so I remember not to keep on clinging on times passed. So, up up and away... over and out.
Current Location:

Cologne

Current Mood:

peaceful

Current Music:

Churches - The mother we share
Current Location:

Cologne

Current Mood:

cheerful

Current Music:

Dashboard Confessional - Am I missing
Cheers.
Wow! It's been like 4 years since I've written on this page - I'm shocked! In times of Facebook and whatsapp I don't really see the use of such a journal anymore but still it's kinda nice AND awkward to have a look back in time what's been on my mind back then. Wow, I'm still in awe! So what now? I'm already working for a year now and I'm gonna move at the end of September (I hope) so many many things have changed but I'm afraid I'm still the internet-nerd, I've been back in the day. So maybe.. if I don't forget about it again, I'll post some stuff here and there for one or two people left to read. Looking forward...
Current Location:

Cologne

Current Mood:

amused

Current Music:

Woodkid

..everyone.. it's been a while again.. my life is pretty stressful at the moment.. there are only 2 months left to learn for my exams at the end of the term... and there's so much I still have to read and learn.. as usual I couldn't get myself to study earlier.. damn it!
Most of the time school's fine.. here and there I'm annoyed but aren't we all?
I've been on some dates with Mauritz whom I really like but am not sure if I like much enough to get in a relationship with and furthermore.. well.. nothing special happened. In 15 min I need to get up to school, work later on my two jobs.. I'm really looking forward to coming home again and put up my feet and relax a little.
So.. have a nice day...
♥

Hey my dear friends...
... here I am again.. it's been a while again, I'm so busy these days!
We're all back to school for 2 weeks now and I haven't really been home for quite a while so today was the first day I slept till noon and cleaned my home.. oh so necessarily!;-)
Later on I went to the city to get some flowers for my balcony since my old ones died because I didn't put enough heart into keeping them alive. So now I'm pretty happy and content with my place all cleaned up and tidy.. it's the little things that make me happy...
Tomorrow morning I tend to go to church to say thank you for my good life right now and everything good that's on my way these days. In the evening I'll have some company and well then it's Monday again and I have to go back to school and work.. yay!
Maybe on Thursday I'll meet up with Pia in Cologne...already looking forward to this.
So what else is new? This term will be pretty exciting I guess.. there are so many lectures this year that really do interest me..like for the first time in three years I love to get up early to hear my Professor lecture me.. it's just great! There's so much to learn this year.. and I'm in such a good place right now with work, my friends and my life in general.. I really need to be more thankful for I can be really content with my life right now for everything is in place...
So.. tonight I guess I'll keep up on my reading for school.. there's nothing really interesting going on tonight anyways:)
♥
Current Music:

Day 'n' Night - Kid Cudi vs Crookers

It's been quite a while again.. I already celebrated my birthday - which was amazing - so I'm 24 now.. wow.. it sounds kinda old.. well I'm still getting used to this age.. soon I'll be 30.. oh dear.. my horror - age!!:)
This week-end Milena and I went to Aachen for a little tour which I guided :) Even though it rained a lot we had a good time, slept in my old "nursery" and went back to Bonn today since it's time to go back to the university tomorrow and we're kinda looking forward to this after three months of being on vacation.
Next week-end I'll take the train to Bielefeld to Pia's housewarming party.. I'm so excited already.. looking forward to this for weeks now!!:)
Seee yaaaa
♥
Current Location:

Bonn

Current Music:

Miss Platnum - Babooshka 2009

.. for my day has been pretty busy and I didn't get too much sleep last night. Milena spent the night and we talked all night.. so when I had to get up early this morning I was so exhausted.. I couldn't even open my eyes.. so now I'm pretty beat and will be on my way up to my bed soon I guess.
So what have I been up to? I went home for the week-end for Kathrin's stag party which was amazing 'cause I had a really good night talking to Pia's cousin:)
Now Kathrin's over there in Italy which feels kinda weird for she's never been so far away for such a long time.. she'll be gone for like 9 months.. it'll surely be strange not being able to talk to her for some time now.. we'll see...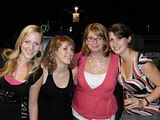 So next week it's my 24th birthday and I'm kinda looking forward to this.. well I don't want to become older every year now for soon I'll be really old and my life as it is will be over some day.. wow.. time really rushes by..
♥
Current Music:

Please don't leave me - Pink
... from the communication and cooperation week I had to spend with 32 people in Euskirchen. It's been pretty good even though I first thought it might kill me;) We had so much fun all together and still had enough seriousness to learn something. Of course there was some trouble in paradise for there always are some people who have to bitch around but it's been okay.. I didn't care too much about them for they don't deserve my attention:) So today I got back and well.. didn't do too much stuff actually. Of course I expected 100 e-mails waiting for me to be read but hey.. only one was waiting for me.. thank you, Pia!:) I sat down outside on my balcony reading my lecture notes for my upcoming (Feb/Mar) exam and just relaxed.. so nothing special:)
Tomorrow Kathrin's coming to Bonn which I'm looking forward to..yay..
♥
Current Music:

Ding - Seeed

Hey guys..
I just had a beautiful day today.. after I went to church by myself I sat down in a cafe with my newspaper drinking some coffee and tea.. just great. I did wear my new pretty dress and just felt amazing.. maybe I should start a new tradition for my Sundays which mostly are kinda lame and lazy:)
When I came home I talked to Pia for about 1 1/2 hours which was very very nice, had something to eat and stayed in for the rest of the day.. just hanging out:)
Tomorrow my BWK-Trip to Euskirchen starts until Friday.. I so don't want to go there but I have to so I hope I can take the best out of it.. we'll see.
On Saturday Kathrin's coming to stay with me for a day for she has some kind of appointment in Cologne and I'm really looking forward to this.. I love love love company:)
So.. now I'm kinda tired and I still have to make my bed for I washed my sheets today.. blaaa.. damn it.. I'm too lazy:)
Have a good night's sleep..
♥
Current Music:

Seeed - Aufstehn!

... I'm tired.. it's been a pretty long day. This morning I came back to Bonn from Aachen where I went yesterday to see my parents again and take some money concerning business into my hands.. so today after work I went over to Frieda's to get some school-stuff done. My next exams are next year in February or even March but those exams will be pretty hard so I've already begun to start reading. It contains a lot of philosophical topics which I don't care for as much as I should do for I often don't understand what all of this stuff means and I don't want to get too much into this for I just don't care ;). So I came back at about 22.30h to call Kathrin and check my mails.. tomorrow my sister's coming to town so I have to get up a little too "early" for my taste :)
On Sunday I'll go to church and really need to clean my apartment. I so need to clean my windows, my bathroom and wash my bed-linen.. it's gonna be a busy day I guess.. we'll seeeeeeee...
Oh I almost forgot.. on Wednesday Milena, Cati, Benni and me went out to a local club called "N8schicht" which was pretty good. Milena and me stayed there until 4.00 in the morning being pretty drunk and funny. As usual I was too dizzy to walk properly so I kinda fell down - which was kinda funny actually - and hurt my right forearm. Nothing really bad happened, now my forearm's a little swollen and bruised but it's okay:)
♥
Current Music:

Marry me - Miss Platnum feat. Peter Fox